Community Outreach Events at Sauer Health Care in Winona MN
---
We are excited to be partnering with MN State College SE and Winona State University to support our CNAs as they begin their careers in health care. July 21st 2020
Walk to End Alzheimer's July 20th 2020
This year, the walk to End Alzheimer's is everywhere—on every street, trail and treadmill. Although we are unable to gather together to walk in support to end his horrific disease, we are still walking and raising money. If you or your family has been impacted by dementia and Alzheimer's, we know you understand the importance of raising money for research, programs and advocacy. Sign up to walk and support the fight! act.alz.org/walk "See" ya there!
COVID-19 Interim Outside Visitation June 24th 2020
GOAL:  To allow for safe resident and family visits during facility restrictions related to COVID-19.
POLICY:  The residents will be able to safely visit with family and friends following the guidance provided by the MDH.
PROCEDURE:
Visitation schedule is Monday-Friday 8:00 am-4:00 pm and should be scheduled through the Therapeutic Recreation Department by calling 507-494-6290. Individuals wishing to visit during other times, should contact the Therapeutic Recreation Department to set up another time.
Staff will assist with outdoor transition of residents, and to assist with wiping down any visitation areas as necessary.
Staff will maintain visual observation while providing as much distance as necessary to allow for privacy of the visit conversation.
Staff will ensure that all visitors are screened for signs and symptoms of COVID-19 at a screening location outside the building. Visitors are requested to write their phone number incase follow up is needed. (see attached form)
All residents and visitors will wear a mask or other face covering at all times, as tolerated.
Outdoor visitation spaces are designed to be accessible without visitors having to walk through the facility.
Outdoor visitation spaces support social distancing of at least 6 feet between the visitor and resident.
Sauer provides alcohol-based hand rub to persons visiting residents and provide signage or verbal reminders of correct use.
Volunteers may be used to supervise outdoor visits after they have been properly trained on the screening process and this policy.
Resident criteria
Current COVID-19 positive residents, residents with COVID-19 signs or symptoms, and residents in a 14-day quarantine or observation period are not eligible for outside visits.
Residents who have had COVID-19 must no longer require transmission-based precautions as outlined by the CDC and MDH guidelines.
Residents must wear a mask, or other face covering, as tolerated.
Visitor criteria
Visitors must wear a mask, or other face covering, during the entire visit unless medically contraindicated.
Visitors must use alcohol-based hand rub upon entering and exiting the visitation area.
Visitors will be actively screened for signs and symptoms of COVID-19 by staff, and must attest to COVID-19 status if known. Any staff observed signs or symptoms and visit will be canceled.
Visitors should not walk through the facility to get to the outdoor visitation area.
Visitors must sign in and provide contact information.
Due to the risk of exposure, holding hands, hugging, kissing, or other physical contact is not allowed during family visits.
Visitors under age 12 years must be in the control of adults who bring them and must also comply with social distancing requirements.
Pets must be under the control of the visitor bringing them in.
All visitors must maintain 6 feet social distance from residents.
Visitors must stay in designated visitation locations.
Number of visitors will be a max of 5
Time length of visit may be up to 1 hour, however this will be based on staff availability to supervise.
Visitors must not bring food to eat either by the resident or visitors during their visit with the resident.
Weather: Visits will occur only on days when there are no weather warnings that would put either the visitor or resident at risk.  Sauer retains the right to deny outdoor visitation to specific residents only if they believe:
Circumstances pose a risk of transmitting COVID-19 to the facility because the resident or visitor does not comply with infection control guidance, or
The resident or visitor is at risk of abuse/harm.
Residents and their loved ones should contact Sauer Health Care with questions about outdoor visits at 507-454-5540.  If you have concerns about your ability to visit with your loved ones, please don't hesitate to contact the Office of Ombudsman for Long-Term Care at 651-431-2555 or 1-800-657-3591 to request advocacy services.
Please note this policy, as with all others will be changed based on guidance and direction from CMS, MDH and CDC.
IMPORTANT CORONAVIRUS PREPAREDNESS INFORMATION June 5th 2020
Editorial – Visitation in Senior Living Facilities
As the State of Minnesota begins its phased opening, and our City of Winona follows suit, we would like to provide some information and make a request with regard to visitors at our regional residential living centers, including nursing homes, assisted living facilities, group homes and any other type of congregate housing facility.
The number of people testing positive across the country and in Minnesota has not leveled off or declined and there continues to be a daily death toll. In fact, by one estimate 27% of COVID-19 deaths nationally occurred in nursing homes. In Minnesota we know that 80% of the deaths have occurred in nursing homes. We all know the vulnerabilities of these populations. It is for this reason that the leaders of our area residential facilities want to share with you plans for ongoing visitor restrictions as well as options and expectations for loosening these restrictions.
Based on the COVID-19 experience in the US, and the disproportionate impact to senior residential facilities, the Centers for Medicare and Medicaid (CMS) released stringent criteria for states, local officials as well as nursing home leaders as they consider reopening. Other residential facilities could be held to these same standards under a COVID-19 threat. It is important to know that the purpose of these standards is to protect residents and staff from contracting and spreading the virus to others. We also know that there is high variation among communities of COVID-19, which must be considered, and when there is a low prevalence the goal is to keep it that way.
Factors that are included in decision-making about re-opening include the status of positive cases in the local community, staffing levels in these facilities (losing anyone to quarantine stresses already limited resources), access to testing, stringent use of masking including visitors, sufficient PPE for staff use, and local hospital capacity. It is also recommended that facilities continue with strict controls while the local community and the state continue their plans for re-opening. In other words, re-opening residential facilities to the public should lag others by at least 14 days.
The Minnesota Department of Health is conducting Infection Prevention and Control surveys in every nursing home and hospital in the state. While we are all used to the survey process, this is an added oversight to ensure adherence to all of the required practices. As testing has occurred in our regional facilities, we have not found any positive cases. This speaks to the rapid adoption and adherence to infection prevention practices in residential facilities in and around Winona. But these restrictions also have a price.
Our regional Winona community is fortunate to have excellent residential facilities caring for our elderly and disabled neighbors. The staff in our facilities do not replace family, but they do become family to the residents. During this time of COVID this has become even more apparent. Facilitating FaceTime calls, video chats, window conversations, as well as providing personal attention in a time of isolation are shifts in focus our staff are happy to do. Separation from families is a hardship for our residents, and staff are doing their best to fill the void.
We all look forward to the day families can return to normal onsite visits; we miss all of you, too! At such time that this occurs, please know there will be heightened screening prior to entering a facility. And masking will be required along with hand hygiene. We will not be discontinuing any of the practice put in place to protect residents, staff, or visitors. Social distancing is now part of our normal day and we are getting creative to accommodate this and still have meaningful connections.
So, what you really want to know is when can you come and visit? The answer is likely not satisfying: "it depends". Right now, we must maintain strict standards and continue to keep our facilities COVID free. Recent mass gatherings have the potential to spike positive cases in the state and increase the spread. We will be watching this carefully. Certainly, compassionate care for end of life situations will be treated differently so family can be present. Each facility will monitor their own situation and use prudent judgment to loosen up restrictions with respect to regulatory guidance. Generally, we share our plans and operate similarly with regard to these regulations. We ask for patience, understanding, and support. And in return, we offer the same. We will all use our best judgment to accommodate residents and families with the goal of keeping everyone safe.
Signed,
Winona are Residential Facility Leaders
Thank you members of Pleasant Valley Church for bringing some cheer to our residents! 🌸 May 2020
National Nurses Week – May 2020
IMPORTANT CORONAVIRUS PREPAREDNESS INFORMATION March 16th 2020
To Our Family Members and Friends,
The current COVID-19 outbreak situation means that it is critical we take every precaution possible. Protecting the health and safety of your loved one and all of our staff is our top priority, and we are doing everything we can to prevent this virus from entering our facility.
The Centers for Medicare & Medicaid Services has restricted visitation in nursing homes of all visitors and non-essential health care personnel, except for certain compassionate care situations such as end-of-life. To help save lives and reduce severe illnesses, we will be implementing these restrictions in our building effective immediately. We are posting signs on our entryway doors to notify visitors of this policy and actively screening all individuals, including staff, who come into the building. 
We know these additional restrictions may be hard for you and disruptive to your normal routines, but COVID-19 requires us to make every effort possible to protect you and our staff. If you believe a visit is necessary, we request that you contact the facility prior to your arrival.
We understand that communication with loved ones is incredibly important. We want you to stay connected with each other and will ensure that you can communicate in other ways such as the telephone, video chat, e-mail, or social media.
In addition to restricting visitation, we are also focused on infection control best practices with our staff and residents. The Centers for Disease Control and Prevention have recommended a variety of steps that we are implementing to help reduce the potential for the virus to enter our building. Please know we are following these prevention steps, including strict handwashing procedures, and in necessary circumstances, wearing gowns and gloves when interacting with residents who present symptoms. We also are staying up to date with these recommendations as they continue to change and we remain in close contact with the local and state health departments to follow their guidance.
Communication is key. We will continue to update you on any news or changes in our operations. Please make sure we have your most current contact information so we can efficiently communicate with you.  Please reach out to the facility with any changes or updates to your contact information. You can update your contact information by emailing: receptionist@sauerhealthcare.org or calling 507-454-5540 and asking for the receptionist.  Please keep checking our Facebook page and our website www.sauerhealthcare.org for update to date information and visit the CDC website: https://www.cdc.gov/coronavirus/2019-ncov/.   We encourage you to email our residents at resident@sauerhealthcare.org, be sure to put in the subject who the email is for and we will be sure to deliver it!
We apologize in advance for any concern or inconvenience this may cause. Should you have any questions, please feel free to contact our Facility Administrator, Sara Blair 507-494-6280, sblair@sauerhealthcare.org or our Director of Nursing, Jen Nogosek, 507-494-6283, jnogosek@sauerhealthcare.org.  
Sincerely,
Sauer Health Care
We are staying connected here at Sauer Health Care! March 2020
Email, FaceTime and Skype are available for our families to be able to stay connected with their loved ones. Emails can be sent to resident@sauerhealthcare.org. Please put the recipients's name in the subject line. If you would like to arrange a FaceTime or Skype session please email us at the above email with your name, the resident you wish to connect with, be sure to include dates and times that work best. Include a phone number if necessary. Looking forward to "talking" to you soon!! 📱 ☎️ 📺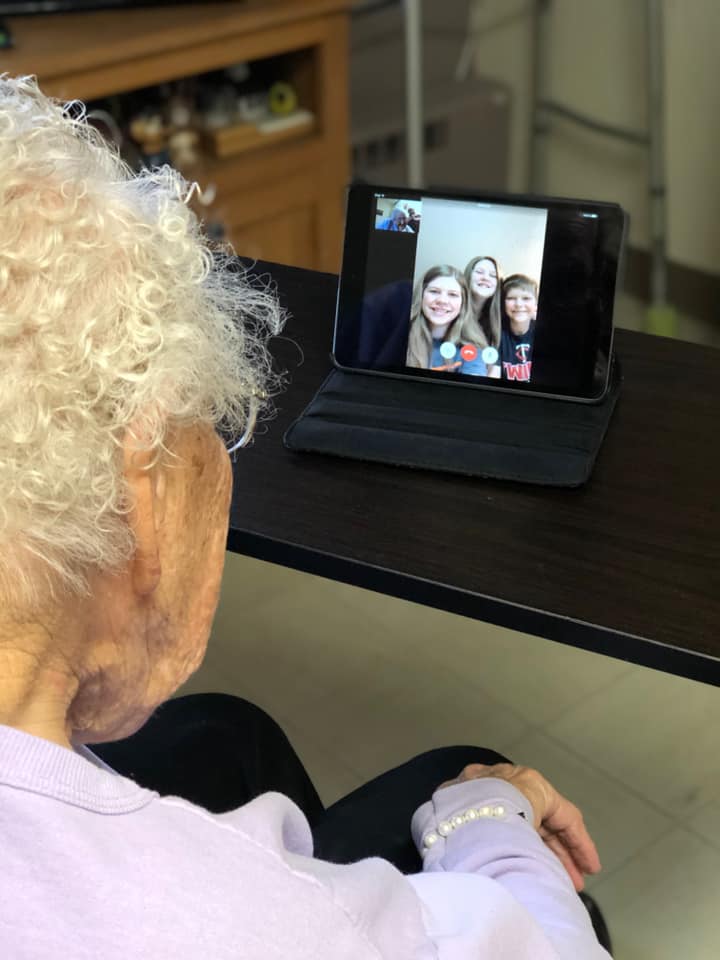 Happy Holidays from all of us at Sauer Health Care! December 2019
Home Delivered Meals December 24th 2019
Sauer Health Care staff deliver Home Delivered Meals every Friday to individuals in the community. This last Friday each person on our route got an extra special gift! Our residents made hand warmers for each of our meal recipients! Thank you ladies!
National Alzheimer's Disease Awareness Month November 2019
More than 16 million Americans care for people living with Alzheimer's and other dementias. November is National Alzheimer's Disease Awareness Month and National Family Caregivers Month. Please take time this month to thank a caregiver for their love and dedication to this vulnerable population.
Breast Cancer Awareness Month October 2019
Breast cancer awareness month is always an important month for us to show our support for all the women we've lost and those who are fighting this ferocious disease.
National Physical Therapy Month October 2019
October is National Physical Therapy Month! Our Physical Therapists; Bob and Brad and Physical Therapist Assistant, Alex are movement experts who optimize quality of life through prescribed exercise, hands on care and resident/patient education. Check out the 2 most famous physical therapists on the internet at www.bobandbrad.com
Walk to End Alzheimer's September 2019
Our Team keeps growing and growing!
43rd Annual Goodview Days August 2019
We enjoyed participating in the 43rd annual Goodview Days festivities! Residents enjoyed meeting this year's royalty and participating in the kiddie parade.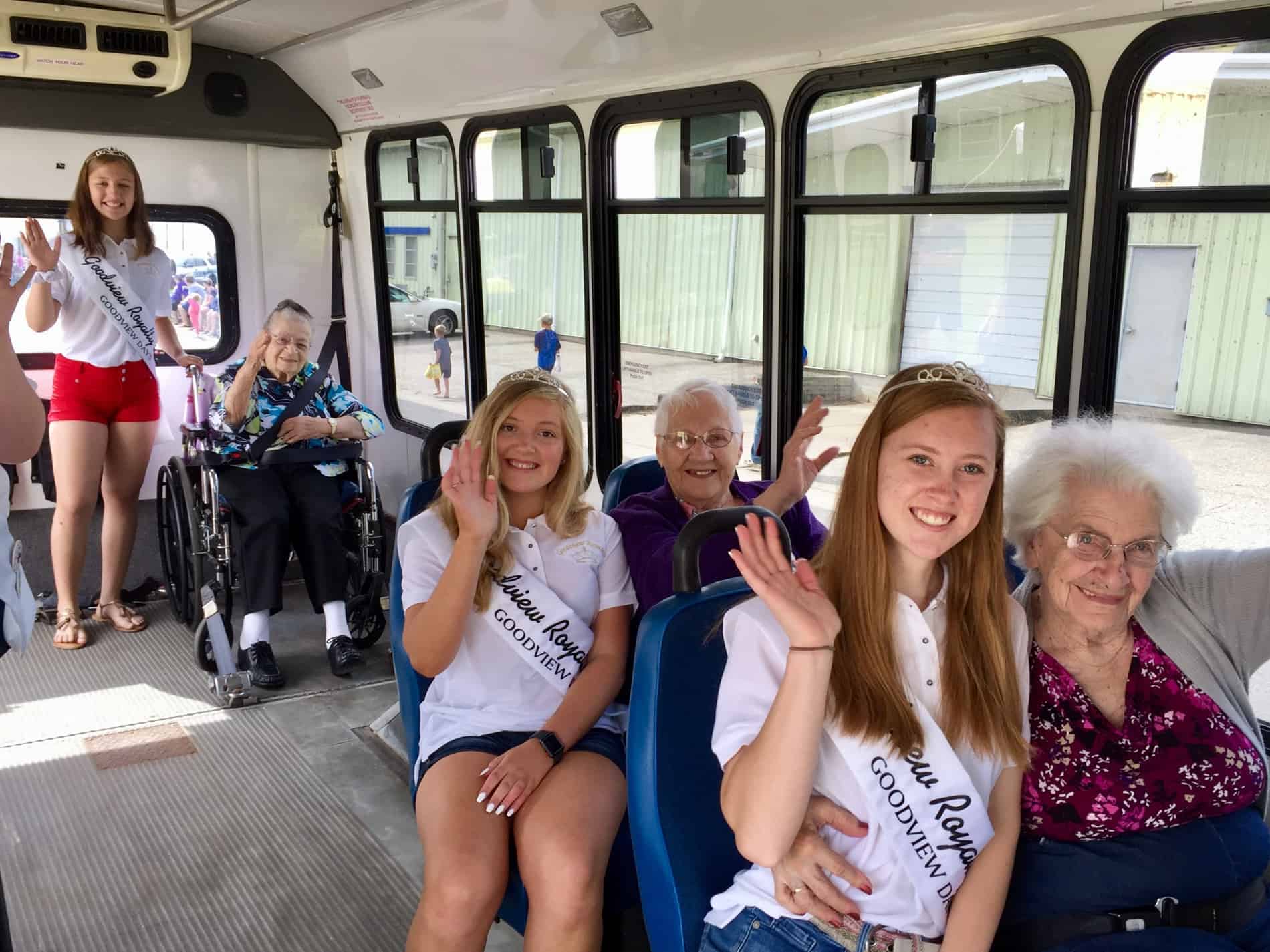 "Food Fight" July 2019
It's time for our annual "food fight" with area senior living facilities. Sauer Health Care is collecting food and money donations at our facility for Winona Volunteer Services for the month of July. Drop off any food items to the 3 barrels that are located near the front entrance, and in the east and west solariums. Thank you in advance! Let's show the community that Sauer Health Care, although the smallest facility, we have the biggest heart!